In Memory
Gary L. Williams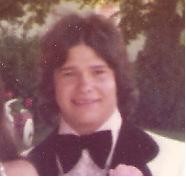 Gary passed away in a tragic traffic accident in July of 1975 at the age of 18. He was survived by his mother, Barbara and father, Ernest. He had three brothers and two sisters. He was employed at Burlington Railroad.
Services for Gary Lee Williams, 19, will be at 10 Tuesday at the Stamey chapel. The Rev. Donald Bell will officiate. Burial will be in Ashland cemetery.
Gary L. Williams
Mr. Williams was a 1975 graduate of Lafayette High School. He was a varsity baseball player at Lafayette and was a member of the North Side Lions baseball team. He was a lineman for the Burlington Northern Railroad.
Mr. Williams was the son of Mr. and Mrs. Ernest L. Williams, 2323 South 13th. Additional survivors include five sisters, Mrs. Shirley Bowden, St. Joseph, Miss Joyce Marie Williams, Miss Sherry Lynn Williams, Miss Karen Sue Williams, and Miss Kim Renee Williams, all of the home; three brothers, Danny Wayne Williams, Terry Lee Williams, and Ernest L. Williams Jr., also all of the home; and his maternal grandmother, Mrs. May Norris, St. Joseph.