Reunion Details
40th Reunion:
PLEASE GO TO 40 YEAR REUNION TAB
40th reunion plans are taking shape. Plans will be confirmed at this afternoon's planning session at Panera Bread in St. Joseph and official notifications with details should be sent out shortly. We've booked the Moila Country Club for Friday and Saturday nights, June 19 and 20, 2015. Class members will be updated with plans as they develop via this website and on our Lafayette High School Class of 1975 Facebook page. For those without access to either site, notifications will be mailed. If you haven't already done so, please look up our page on Facebook and join for future meeting updates. THANKS! Paul
---
35th Reunion:
PLEASE GO TO 35 YEAR REUNION TAB
Diana Keeney Jones I know plenty of people are planting gardens. Can we put the word out we need potatoes, tomatoes, jalapeno's, zuch, squash...etc for the reunion. I need 75-150 lbs of potatoes for the grilled potatoes, tomatoes & japs for the pico & we'll cut up zuch/squash for veggies. Anybody that can help out..let me know..Kathy
Next meeting is May 4th at Panera Bread at 6:30. (Note this is a Tues).
Those attending April meetings:Bruce Hayes, Jerome Goolsby, Teresa Fankhauser, Cindy (Daniels) Winger, Gloria (Lopez)Bears, Donette (Silcott) Smock, Kevin Kiner, Brenda (Akins) Callen, Rick Roberts, Mark Shepherd, Roger Sager, Pete Walker, DIANA (KEENEY) JONES, MAX RUSSELL, and Kathy(Snyder) Hughs. Janet (Lawson) Ries attended via SKYPE.
WOULD PREFER YOU REGISTER ONLINE (GO TO TOP LEFT 35 YEAR REUNION) PLEASE REGISTER EVEN IF YOU ARE NOT ATTENDING!
IF YOU HAVE NOT BEEN ON THIS SITE BEFORE, GO TO MISSING CLASSMATES AND CLICK ON YOUR NAME!
We will want to start collecting money starting now. $30.00 a person covers both nights-what a deal!!! ($20.00 if you can only attend one night). Questionaires are out and if you know of anyone that has not joined this site please have them do so! Please send checks to LHS 1975/Kathy Hughs, 12554 County Road 363, St. Joseph, MO 64505. If you have any questions, please call 816-351-4695. (due to new banking stuff and since we do not have a tax id #,we can't have LHS 1975 as the name on the account..ugh!) Pictures will be on Saturday night, approx 6:30. Cost is $10.00 for a 8x10 class pic and grade school group pics will be 5x7 for $ 5.00.
Hotels: We seem to have trouble with getting good rates unless we actually book rooms. However, Teresa has gotten 10 rooms blocked at Holiday Inn for $72.00 a night..Reservations must be made by June 4th. 816-279-8000. This is the one downtown 3rd & Felix.
Other hotels available: (Check to see if they have military, AAA, or AARP (cough,cough) discounts if applicable.
Days Inn
4312 Frederick Ave.
St. Joseph, MO 64506
(816) 279-1671

Drury Inn
4213 Frederick Ave.
St. Joseph, MO 64506
(816) 364-4700

Comfort Suites
917 N. Woodbine Rd.
St. Joseph, MO 64506
(816) 232-6557

Hampton Inn
3928 Frederick Ave.
St. Joseph, MO 64507
(816) 390-9300

4502 SE US Hwy 169
St. Joseph, MO 64507
(800) 842-7438

Motel 6
4021 Frederick Ave.
St Joseph, MO 64506
(816) 232-2311

1102 Felix St.

St. Joseph, MO 64501

(816) 387-9663

Ramada Inn
4016 Frederick Ave.
St. Joseph, MO 64506
(816) 233-6192

Stoney Creek Inn
1201 North Woodbine Rd.
St. Joseph, MO
(816) 901-9600

Super 8 Motel
4024 Frederick Ave.
St. Joseph, MO 64507
(816) 364-3031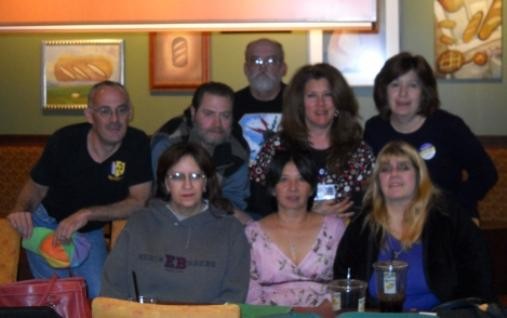 At our last meeting, Bruce Hayes, Dennis Ramseier, Jerome Goolsby, Cindy (Priebe) Hampton, Teresa Fankhauser, Gloria (Lopez) Bears, me, Donette (Silcott) Smock, and Cindy (Daniels) Winger (not pictured) were there. See here we are..lol
SET YOUR CALENDARS! Reunion Dates have been set to June 18-19, 2010. We will have our Friday icebreaker at KOC and Saturday will be at Cindy Winger's. (THANK YOU CINDY!!!). Bruce has been gathering items so we can have a Memorial Area for our classmates that are no longer with us. Anyone that has any items or photos of those classmates that we may borrow, please let us know. I will have an official list soon of people that we do not have addresses soon. If you know of anyone that has not registered on the site, please have them do so. If they do not have an email address, have them contact me, so their information can be put into the system and they will be taken off the site missing list. Diana Keeney Jones is in charge of the cooking for the reunion. Jeannie Klawuhn Nordstrom is our decorating person. The rest of us will be gathering all other info, so we can have a price of the reunion. IT WILL BE WELL WORTH IT!!!
Next meeting is December 7, 2009 at Panera Bread, 1209 N. Belt Highway. at 6:00.
Anybody that can come, please do!!! If you have any suggestions, let us know-this is your reunion!
Kathy 816-351-4695