In Memory
Charles L. White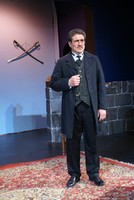 Charles Laurance White Jr., 53, passed away on Wednesday, September 22, 2010, after a brief and valiant battle with cancer.
He was born in Oklahoma City, Okla., on August 6, 1957, to Charles Sr. and Elizabeth (Tupas) White. They survive of the home. He resided primarily in St. Joseph and Kansas City, Mo. He attended Lafayette High School and Missouri Western State University.
He was preceded in death by his sister, Karen White Ezzell in 2008.
Charles was the consumate entertainer. He channeled Frank Sinatra in voice and stage presence, singing for nursing homes and hosting karaoke events. He served as Emcee for Parkville Chamber of Commerce Dinners as well as for a Benefit Performance to raise money for the Fox 4 Love Fund. He graced the stage of theatres in St. Joseph, Kansas City, and Atchison, Kan., and delivered performances that brought audiences to their feet. He had a quick wit and a wicked sense of humor. He had the ability to make those in his presence feel special. Charles had a big heart, a beautiful smile, and a golden voice. The world has truly lost a treasure.
Additional survivors: daughter, Charity (Eric) Hoffman; grandchildren, Jaron and Kayla; best friend, Jennifer Stammers; nephews, Levi (Amy) and Matt Neely; niece, Heather (Adam) Cohen; great-nephew, Zac; great-nieces, Haley Deen and Paige Sollars; several aunts, uncles, and cousins; and too many friends to list.
Memorial Service: 1 p.m. Saturday, Meierhoffer Funeral Home & Crematory. Inurnment: Mount Mora Cemetery. The family will receive friends 6 to 8 p.m. Friday, Meierhoffer Funeral Home & Crematory.
Memorial contributions can be made to Theatre Atchison, 401 Santa Fe, Atchison, KS 66002; or the American Cancer Society.