In Memory
Cheryl Way (Arnold)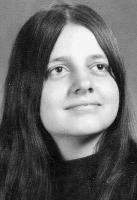 KING CITY, Mo. Cheryl Arnold, 61, King City, passed away Wednesday, June 20, 2018, at a local health care facility. Cheryl was born February 20, 1957, to Edgar and Virginia (Paxton) Way, in Savannah, Missouri.
She was a graduate of Lafayette High School.
She married John Arnold and raised her family. She was loved and liked by everyone.
Cheryl was preceded in death by: her parents; and sister, Sandra Paige. She is survived by: her husband; daughters, Kara (Brian) Colvin and Lisa (Bill) Moran; son, John Kasey Paul (Tanya) Arnold; brothers, Roger, Billy and Mark Way; sisters, Carolyn Martin and Judy Eddy; 11 grandchildren; two great-grandchildren; and numerous nieces, nephews and cousins.
Mrs. Arnold has been cremated under the direction of the Heaton-Bowman-Smith & Sidenfaden Chapel in St. Joseph.
Memorial service: 10 a.m. Saturday, June 23, 2018, at Mt. Olivet Cemetery.
Memorial contributions may be made to Mosaic Hospice. As published in the St. Joseph News-Press.