In Memory
Douglas E. Smith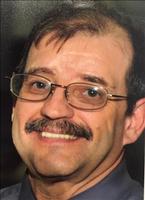 Douglas Edwin Smith, devoted husband, loving father, extraordinary grandfather, and loyal friend passed away at home in Claremore on August 18, 2020. He was 65. Born in a snowstorm in St. Joseph, Missouri on January 31, 1955 to parents Harrel and Barbara Smith. Doug and Barbara married October 9, 1999 and were blessed with 20 years of marriage.
Douglas retired from Wonder Bread in Tulsa after 25 years. He drove a school bus for many years at Claremore public schools. He later became a transportation director for 5 years. Drove his final bus route for Northeast Votech.
Doug had many hobbies. He enjoyed fishing, attending car auctions, and watching NASCAR. He could also be found on the weekends attending the grandkids football and baseball games.
Doug is survived by his wife, Barbara Smith, of the home. Children, Michlea Eaton, Justin Smith, Justina Smith, and Benjamin Smith. Grandchildren, Garrett Eaton, Dalton Eaton, Nate Eaton, Holden Eaton, Mya Smith, Caleb Smith, Bryson Hall, Keylei Hall, and Braxton Smith. Siblings, Debbie Ridpath and Brenda Wood. Pets, Libby Jane (Yorkie) Dogdaughter, Vader and Dirks (Feline sons).
Doug is preceded in death by his parents, Harrel and Barbara Smith.
A memorial service to celebrate Doug's life will be held on September 5th at Westside Holiness Church in Claremore at 11:00am.
Pastor Jenks will lead the service under direction of Rice Funeral Home.