In Memory
Donette Silcott (Smock)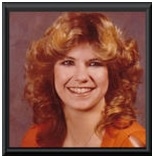 Donette Sue Smock, 55, a lifetime resident of St. Joseph, Mo, passed away August 10th 2012 at Heartland Regional Medical Center with her family by her side. She was born March 1st, 1957 to Don and Dorothy Silcott in St. Joseph, Mo.
Donette was, above all, a humanitarian who dedicated her life to helping others. After graduating from Lafayette High School in 1975, her desire to be of service led her to pursue a degree in Psychology from Missouri Western State College in 1980, which she followed up by graduating from Kansas University with a master's degree in Clinical Social work in 1989.
Throughout her career, Donette enriched the community with her service. In the early 80s she worked as a Juvenile Officer, helping countless youths. During the mid-late 80's, she designed and developed a sexual abuse prevention program in the state of Missouri for the education of preschool and young children. The program was awarded a grant from the State of Missouri Governor's Children Trust Fund from 1986-1989.
In 1991, she built a very successful private practice in counseling and psychotherapy, specializing in severe dissociative disorders and dissociative-identity disorders. She worked closely with the Division of Family Services.
Donette was also an active entrepreneur throughout her life. She co-owned Video World a successful video store chain, as well as Heaven and Earth, a spiritual bookstore. Later in life, Donette would go on to co-own a small publishing company, Sun Rising Publishing Press and a graphic design business, Innerself Inspirations.
Donette was very interested in spirituality and metaphysics. She was a Master Hynotherapist and was a published author. Her book, Understanding Your Sun Sign, was published in March of 2005.
Ms. Smock is survived by her twin sons, Morgan and Levi Smock; brother, Jay Silcott (Carole); niece, Lindsay Silcott; nephew, Chad Silcott (Jill); great nieces Kylie Silcott and Jayden Silcott; great nephew Crozzley Silcott; and Aunt Sherry Seward (Jim). She was preceded in death by her mother and father, Don and Dorothy Silcott.
She was loved and will be dearly missed by her family and good friends.
A visitation will be held at Heaton Bowman Smith & Sidenfaden Chapel, Sunday, August 19th from 6pm- 830pm with a Memorial Service following Monday, August 20th at 12:30 pm. The burial will take place immediately after at Memorial Park.
In lieu of flowers, the family suggests memorial contributions be made to St. Jude's Children Hospital.