In Memory
Cheryll Ramseier (Duer)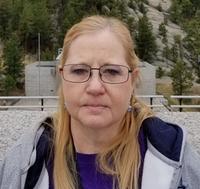 Cheryll Duer, 62, of Topeka, passed away on May 10, 2019. She was born December 7, 1956, in St. Joseph, Missouri, the daughter of Regeiner L. Ramseier and Georgia A. (Hillen) Ramseier.

She graduated from Lafayette High School in 1975 and went on to attend Missouri Western University. She was employed by the Kansas Judicial Branch since 2006.

Cheryll was a community leader for 4-H, as well as a master volunteer. She loved crafting, scrapbooking, card making, as well as many other creative things. Above all else she enjoyed spending time with her family. She was a member of St. Andrew's Presbyterian Church.

She married Keith Duer on March 14, 1982 in St. Joseph, MO. He survives. Other survivors include daughters, Cassy, Kara, and Krystal Duer; brothers, Dennis Ramseier, Douglas (Cheryl) Ramseier, sister, Leanna (Albert) Fifhause; as well as numerous nieces, nephews, and great-nieces and nephews.

She was preceded in death by a brother, David Ramseier.

Cheryll will lie in state from 2:00 to 5:00 p.m. on Monday, May 13, 2019 at Penwell-Gabel Mid-Town Chapel, 1321 SW 10th Avenue, Topeka. The family will receive friends during a visitation beginning at 10:00 a.m. on Tuesday, May 14, 2019 at the funeral home. Services will follow at 11:00 a.m. Private burial will take place at Onaga Cemetery, Onaga, KS.

In lieu of flowers memorial contributions may be made to American Cancer Society - Topeka 1315 SW Arrowhead Road Topeka, KS 66604.