In Memory
Vicky L. Liechti (Myers)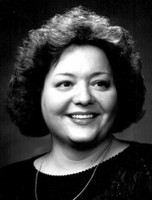 SAVANNAH, Mo. - Vicky Lynn Myers, 56, Savannah, passed away Saturday, May 11, 2013, at Kansas University Medical Center. Vicky was born December 16, 1956, to Dale W. and Lola (Beck) Liechti, Sr. in St. Joseph, where she was raised. She graduated from Lafayette High School and received a Bachelor of Arts degree from Kansas University. Vicky also obtained a Masters degree in clinical social work from the University of Missouri.
Vicky married Rollin Myers on November 6, 1976, he survives of the home. They moved to Savannah in 2000. Vicky was a Clinical Social Worker with Family Guidance Center and later worked at Northwest Health Services. Vicky was a member of First Christian Church in Savannah and belonged to the National Association ofSocial Workers. She enjoyed working with people.
Vicky was preceded in death by her parents. Additional survivors include daughter, Stacy, Savannah; son, Raleigh; granddaughter, Jami, both of the home; step-children, Cheryl Wolfe, Lansing, Kan., Richard Myers, Liberty, Mo., Randy Myers, Galveston, Texas; brothers, Mark Liechti, Tonganoxie, Kan., Dale W. Liechti, Jr., St. Joseph; aunts and uncles, Lee Liechti, Atchison, Kan., Julie Gerlien, Liberty; niece and nephew, Ashley Liechti and Brett Liechti.
Service: 11 a.m. Thursday, at First Christian Church, Savannah, under the direction of Heaton-Bowman-Smith Savannah Chapel. The family will receive friends one hour prior to the service at the Church. Inurnment will be in Savannah Cemetery at a later date. In lieu of flowers, memorial contributions are suggested for her children's education fund.